"Remember, candidates sitting for the examination are to conform with the outlined Standard Operating Procedures.  In particular, candidates are not permitted to bring in any items that are not required for answering the question paper."
I have an issue with these SOPs. No matter how much I'd like to be a conforming candidate I simply cannot be. This is not because I am forgetful. This is not because I am not switched on. This is because I have Type One Diabetes.  I must have my very own Standard Operating Amended Procedures!
To be exam prepped and ready I come equipped with my diabetic expedition survival kit. This is literally what I would need if ever I happened to be shipwrecked on a desert (or dessert) island.
With this kit, I reckon I could last an extra 2 days, at least from a diabetic standpoint not taking into consideration the threat of a lack of drinking water and dangerous animals.
It also means that I can sit in a 3 hour Cambridge A-Level Accounting exam and survive from a diabetic standpoint not taking into consideration the threat of not having done enough revision.
In the kit, I have my blood glucose meter, lancets, testing strips, sweets, alcohol swabs, sweets, constant glucose monitor reader, sweets, insulin, sweets, phone and a good luck mascot.

In addition to abiding by my Standard Operating Amended Procedures, I must also prepare for several situations should they arise.
The feeling of stress is inevitable come exam season no matter who you are. Stress is not a carbohydrate but can affect a Type One Diabetic's blood in the same way as a carb would.  The experience itself can cause your blood to rise similarly to how eating a carbohydrate would.  How sad is that, my glucose spikes and I haven't even tasted a thing.
The following table gives you an insight into my stress level, what it does to my blood sugar and what I would have to eat (provided no insulin) to cause the same: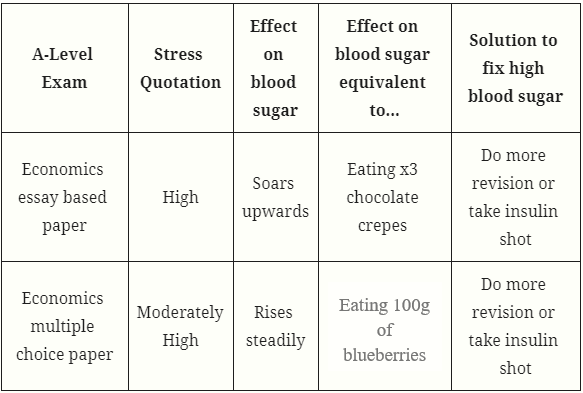 A way to reduce your stress and reduce blood sugar spikes is to revise using high-quality notes. Big thanks to the team at ZNotes for helping me to reduce my blood sugar during my Cambridge AS-Level exams. You guys helped me smash my Psychology papers.
On a final note, did I mention that I need to bring sweets into the exam hall? It's not all bad being a Type 1 Diabetic.
Glucose upon publishing: 5.4 mmol/L
PS My name is Antonia and I was diagnosed with Type One Diabetes in February this year. The aim of my blog is to try and wittily tell you about the life of a Type One Diabetic in an amazing country (Malaysia) whilst studying for A-Levels! Please have a look and maybe follow me :)